Spring '99

On the cover: Pitchfork Ranch cowboys out on the range in West Texas, 1990s.
Photo ©copyright Bob Moorhouse.
Table of Contents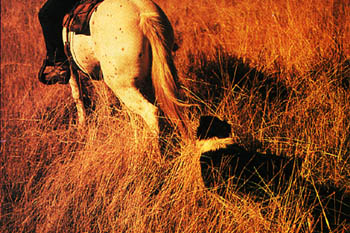 Photo ©Copyright Jim Oltersdorf
FEATURES
MONTANA'S MATADOR
No ordinary ranch, no ordinary rancher. By Tom Daubert
BLOODY BEND
The Chambers live on the Texas frontier where life is a battle for survival. By J. Zane Walley
SELLING OUT TO STAY
The land's productivity was not enough to keep Wyoming's Pollock family secure. By Eric Grant
PEARLS OF THE CONCHO
Building a new American tradition with mohair and wool. By J. Zane Walley
FUTURE FRONTIERS
Earthly good from NASA's space technology. By Diane S. Cattrell
GRASS BETWEEN THE ROCKS
The McClaran family lives and rides in Oregon's wild canyons. By Joanne Harrison
HUMOR
JACKKNIVES AIN'T JUST FOR WHITTLIN'
Oh too many uses! By Ryan M. Taylor
PAY ATTENTION OR PAY THE PRICE
My mind was occupied. By Jim Brooks
YESTERDAY
SALLIE CHISUM
She could out-ride, out-shoot and out-drink most of the New Mexico cowboys. By Judy Adams
PHOTOGRAPHY & ART
OUT ON THE RANGE
At Nebraska's Fort Niobrara Wildlife Refuge. By Joel Sartore
THE INHABITED PRAIRIE
In Kansas. Photographs by Terry Evans, words by Donald Worster.
PORTRAIT OF THE WEST
California's Cliff Groves. By Larry Turner
OUT ON THE RANGE
At Nevada's Lunar Crater. By David Muench
PEOPLE & POETRY
POLITICS & HEREFORDITIS
Estelle Matasovic defends ag. By Eileen DiCicco
THE FRONT PEW
Poetry by Ross Gibson
BLACK COFFEE & POSSUM BELLIES
Competitive chuckwagon cooks guard their culinary secrets. By J. Zane Walley
CONFESSIONS OF RED MEAT SURVIVORS
Ray Taylor, Oregon; Eldon Zwicker, Colorado; Clarence Martin, Colorado; Lavorna Helton Benedict, Montana
SCIENCE/POLITICS
PICKING APART PARADISE
Whenever sights are set on a bit of heaven, there's always hell to pay. By Tim Findley
URBAN-RURAL RAPPORT
Who should manage the land? By Alice Good
ECOTERRORISM
In the new Wild West, it's cowboys vs. radical environmentalists. By James Brooke
CUT, BURN & KILL
The many costs of eco-vandalism. By Roni Bell
CRITTERS/HABITAT
CRYING WOLF
A grim tale of a pushy fed. By Tim Findley
COW DOGS
The ranchers' real right hand. By Jim Oltersdorf
BULL TROUT
This predatory "trash fish" may be the next scourge of the West. By Chance Gowan
OPINION
LEWINSKI BAD FOR ENVIRONMENT
Coverups, credibility, and ecological catastrophe. By Alston Chase
PLAYING IT WRONG?
Response to Kieran Suckling and "Playing Against The Rules." By Robert J. McKnight and Barry Clausen
ENOUGH WITH NATURE ALREADY
Time to take responsibility. By Stephen Lyons
GLOBAL WARMING
By Tim Findley and Thomas Gale Moore
STEPPING UP TO THE PLATE
Easy to shrink into the night. By Julie Rodgers
DEPARTMENTS
Up Front
Letter from the Editor
The Trials of '98
By C.J. Hadley
LETTERS
AMAZING FACTS & QUOTES
RANGE HEROES
RANGE AGENTS
RANGE COLLECTOR SET
1999 REAL BUCKAROO CALENDAR
RANGE offers opinions from scientists, scholars, environmentalists, federal agency employees and the people who earn a living from the land.
Your comments are welcome.