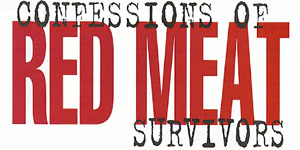 Andy Giambroni (81years young)
Photos courtesy Giambroni Family
The storyteller.
By Jennifer Giambroni
Andy Giambroni was always too busy telling a joke, singing a song or working to talk about his experience in World War II. These days, however, he will chat you up before he tries to sell you a copy of "The Odor of War,š a book he wrote at age 76.
Andy was born July 16, 1923 in Alameda, Calif., and grew up in Oakland where his father had a grocery business. "Of course, Oakland was much more rural back thenųnot the urban, crowded area you think of now. We were able to run and play and ride horses, just like most kids in those days.š
Fourth of five kids, Andy spent his childhood pretending to be a cowboy. In 1942, at the age of 19, he was drafted to serve in World War II. His commanding officer wanted to turn him into a paratrooper, but Andy had other ideas: "I got dizzy standing on two bales of hay.š Instead, he became an infantryman.
Serving in Company B of the 50th Infantry Battalion of Patton's 6th Armored Division, Andy saw a lot of ugly battlesųincluding the Battle of the Bulge. He brought home the Silver Star, Bronze Star, Purple Heart, Combat Infantry Badge and three European Battle Stars. Luckily, his only physical injury was what he called his "million dollar woundšųan injury to his hand that required surgery but did not leave any permanent damage.
Eleven days after being discharged from the Army, Andy was on a train to Fort Collins, Colo., to pursue a degree in veterinary medicineųa field his brother Joe had entered several years priorųat Colorado State University. In 1950, he went into practice with Joe in Red Bluff, Calif.
Andy married Beverly Hornbeck in 1958 and settled on a 42-acre ranch southwest of town where they raised two sonsųJoe, a musician, and Jess, a graphic designer.
In addition to running cattle on his own property, Andy and Joe ran a commercial cattle operation with livestock in California and Nevada. In the 1970s, Andy joined Walco Animal Health Company where he worked for more than 25 years.
After retiring from Walco, Andy took up raising birds. For most folks, that might mean a parakeet or two, but Andy built aviaries and pens to house quail, pheasant, chukars, wild turkey and chickens.
"My first experiment hatching eggs didn't turn out too well,š he laughs. "I had the heat turned up and ended up baking the poor suckers. Bev pickled the eggs and gave them to me as a joke one Christmas.š He still runs 40 to 50 head of cattle.
Despite living "in a body that should have been turned into a scrap heap,š Andy has the same sparkle in his cornflower blue eyes that he did as a boy. Most Sundays, he meets with a group of old friends at the Blue Sky Café in Red Bluff's small airport for what is known as "Andy's Breakfast Club.š They even have shirts to commemorate their meetings.
Andy and his family took a trip to Europe in 1998. After seeing the battle sites where he had fought some 50 years prior, he felt the urge to capture his experience on paper. It was the first time he felt ready to talk about the war and it soon became a conviction that he needed to share the horrors of war to show people that it shouldn't be glorified.
"All I could think of was the stenchųthe smell of dead bodies, the people who hadn't showered in days, the gunpowderųeverything that makes war so vivid and awful. That's how I came up with the titleųthe overall message is war stinks!š For info about "The Odor of War,š check Andy's Web site at www.trafford.com/robots/03-1454.html.
Settling into his new career as author, Andy is now active in other veteran organizations, including the Super Sixers group that meets for a reunion once a year. He's even planning his next tomeųa book about his brother Joe.
Clockwise from above: Andy Giambroni in France during WWII. * Andy (left) with James Rice,
president of the Sonoma County Trail Blazers. * Playing cowboy in Oakland.
* With big brother Joe on their Shetland pony.
© 1998-2005 RANGE magazine. All rights reserved. | For reprints, permissions or general questions, contact RANGE
---
Brought to you by RANGE magazine