On St. Patrick's Day in 1999 shoppers at dozens of Home Depot stores across the country heard peculiar intercom announcements. One said, "Attention shoppers, on aisle seven you'll find mahogany ripped from the heart of the Amazon." Activists from an environmental group had obtained intercom access codes and decided these announcements would make a great intimidation tactic. They were right. Home Depot is now marching to the environmentalist's drum.

I hesitate to mention this, as I hope this article makes it into Range, but my next statement may cause the editor intestinal distress. This magazine likes to review manuscripts the old-fashioned way (on paper, not electronically) and it adds, "It's hard to take the computer into the outhouse!" Well, Greenpeace publishes an Ancient Forests Friendly Tissue Products Guide. Not that they want to control your life in any way, but if you buy tissue off the Red or Avoid list, you will end up in the ninth circle of hell. So, if the outhouse contains Charmin, Cottonelle, or Kleenex, as opposed to Econochoice or Seventh Generation, there may now be a huge eco-dilemma in Carson City.

This particular piece of socialism is called forest certification or green certification. If the environmental movement has its way, all forestland will be managed under green certification. The wood or fiber in that roll of Charmin, ream of paper, book, or board had better have the green seal of approval on it, or else.

The oldest forest certification system is the American Tree Farm System, established in 1941. It certifies 33 million acres, is voluntary, and has minimal costs. Certification requires adherence to nine standards that ensure sustainability and protection of air, water, soil, fish, wildlife, aesthetics, and biodiversity. It values education over regulation and allows for management of a forest for free enterprise objectives. In 1995 the Sustainable Forestry Initiative (SFI) was established by the American Forest and Paper Association. It now certifies 136 million acres of forest-industry lands in North America. It has a set of standards and objectives that require sustainability and protection of resources. There are other certifiers, but the environmentalists are usually pretty specific about who ought to be doing the certifying and that is the Forest Stewardship Council (FSC).

While Tree Farm and SFI are sustainability and resource protection-oriented, FSC has a broad set of social and environmental goals. It was begot from a 1990 meeting in California of "timber users, traders, and representatives of environmental and human rights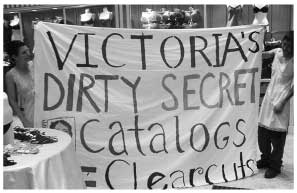 FOREST ETHICS ORG PHOTO GALLERY
Victoria's Secret was targeted by Greenpeace, Earth First!, Rainforest Action Network and others because they print too many catalogs. The Dogwood Alliance bragged, "Collectively we generated over 600 demonstrations, 15,000 postcards, thousands of phone calls to corporate headquarters and regional offices, thousands of letters from concerned citizens, coverage in more than 10 national media outlets, and over 50 local media outlets...and produced a PSA with rock band R.E.M."
organizations." FSC was founded in 1993 and is now based in Bonn, Germany, with a mission "to promote environmentally appropriate, socially beneficial and economically viable management of the world's forests." FSC has forest management standards based on principles and criteria of responsible forest management. Some of the principles make good sense and some are downright scary.

This article can't discuss all principles and 56 subprinciples. But a few highlights will illuminate the intentions of FSC. Principle #1 states: "Forest management shall respect all applicable laws of the country in which they occur, and international treaties and agreements to which the country is a signatory and comply with all FSC Principles and Criteria." Obviously, the laws and treaties of some countries are bound to disagree with FSC principles. This will be handled on a "case by case basis."

Principle #3 states: "The legal and customary rights of indigenous peoples to own, use and manage their lands, territories, and resources shall be recognized and respected." Your family has owned the same land since 1860? No, you are not even close to being indigenous.

Principle #4 states: "Forest management operations shall maintain or enhance the long-term social and economic well-being of forest workers and local communities." That comes down to workers' rights to organize and management plans that address social impact. That means you must consult "with people and groups (both men and women) directly affected by management operations." If these people or groups suffer damage, then fair compensation shall be paid.

Principle #6 addresses environmental impact. Of course, "forest management shall conserve biological diversity." Ecological functions must be maintained. "Environmentally friendly nonchemical methods of pest management" must be promoted. What? You are not sure exactly what biological diversity and ecological function are. Don't worry, neither does anyone else know. It's whatever they want it to mean at the moment. Principle #8 states that monitoring and assessment is necessary and that "documentation shall be provided by the forest manager to enable monitoring and certifying organizations to trace each forest product from its origin, a process known as the chain of custody." That means that if the outhouse at Range magazine has tissue with the FSC symbol, the fiber can be traced to sanctioned forest harvesting.

Principle #10 addresses plantations. The nine subprinciples leave little doubt that natural timber stands are strongly preferred.

FSC has a goal of market control and gains power through the intimidation of environmental groups. Working? It sure is! After being targeted by environmentalists, Home Depot established its wood-purchasing policy in 1999. It brags: "We sell more FSC-certified wood than any retailer in America and at the same time we have transitioned more vendors to FSC certified wood than any other retailer in America." Transitioned? Lowe's gives preferences to forest products from certified forests and says: "The Forest Stewardship Council is recognized as having the highest certification standards available today and will be given preference over other certification systems." Wickes gives purchasing preference to certified forest products. Most building supply corporations now have wood-purchasing policies that promise preference to certified forest products and many specifically mention FSC certification.

The Paper Campaign is another environmental movement led by ForestEthics and the Dogwood Alliance. A long list of participating groups includes American Lands Alliance, Cascadia Forest Alliance, EarthFirst!, and Rainforest Action Network. The campaign demanded office supply stores sell environmentally friendly paper and educate employees, customers, and suppliers about the benefits of recycled paper and healthy forest resources. Staples was the first target.

On America Recycles Day, Nov. 15, 2000, the campaign targeted over 75 Staples stores with demonstrations. On Nov. 13, 2001, it was 200 demonstrations. Guess what? On Nov. 12, 2002, Staples announced their new paper procurement policy
INSET: JED STONEWALL, PORTLAND INDEPENDENT MEDIA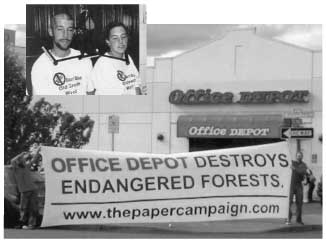 HTTP://PORTLAND-INDYMEDIA.ORG/EN/2003/10/273499.S
More than 100 demonstrations were held at Office Depot stores over two days. They and other large chains soon fell into lockstep with raging radicals (in bicycle chains, inset). Consumers are paying much more because of it and the end result is regulations governing American forests will be traceable to Bonn, Germany and not Washington, D.C., or our state capitals. Social goals and the desires of tree-sitters are taking precedence over real and honest science.
in a joint press conference with the Dogwood Alliance, which bragged, "Collectively we generated over 600 demonstrations, 15,000 postcards, thousands of phone calls to the corporate headquarters and regional offices, thousands of letters from concerned citizens, coverage in more than 10 national media outlets, and over 50 local media outlets; introduced a shareholders' resolution; generated a letter to the CEO signed by over 150 religious leaders; and produced a public service announcement with the rock band R.E.M."

Then Office Depot got the same treatment, with over 100 demonstrations held on two days. Office Max had an airplane towing a banner over its annual shareholders' meeting: "Office Max Means More Forest Destruction." Office Depot and Office Max soon fell into lockstep.

Greenpeace has the Book Campaign that targets publishers. Purple Coyote Corporation publishes Range and I note no recycled paper or FSC symbol on the magazine. Those are the two Greenpeace will accept. It says, "Buy FSC paper to ensure that the fiber comes from forests that are well managed to strong ecological and social criteria." I don't know what to say, but I guess Greenpeace will eventually say it for me.

Forest certification is not a bad idea. The Tree Farm System and Sustainable Forestry Initiative are examples of voluntary programs with a strong natural resources management foundation. The problems arise when social goals become part of the equation. There are over 100 FSC-certified forests in the United States and over 500 FSC chain-of-custody companies. FSC is growing! CNN reported small forest owners in Washington banding together to get FSC certification that should cost about $1,000 each for a five-year contract.

Certification costs money. Certification can cost several dollars per acre on small tracts, or as little as 25 cents per acre on large tracts. Annual audits are required; there is the cost of changing forest management practices; and recordkeeping is another cost.

Overall, this means a certified 2-by-4 board may cost 10 percent more than a noncertified one. Guess what? Consumers are not keen on paying the 10-percent premium when given a choice and the certified and noncertified wood is sold side-by-side.

If FSC forest management becomes the norm in this country, forest productivity would take a huge hit. Forest management would be less intensive and plantations would be fewer. Growing wood would be more expensive and the consumer would pay more for lumber and paper products. More importantly, control over forest policy would move from governmental hands to the certifiers' hands. There would still be regulations governing forest management practices, but they would be traceable to Bonn, Germany, and not Washington, D.C., or the state capitals. There would still be public input, but much of this public would have to come down from its tree-sitting platform to participate.

The FSC logo is a tree with a check mark forming its left side; "FSC" is below the tree. Watch for it on forest products. Be aware of what it really means and what the intimidation tactics are really all about. Whether you like it or not, FSC is a part of your life and is trying to worm its way into your pocketbook.

Thomas J. Straka is a professor of forestry and natural resources at Clemson University in South Carolina.