The quality of the photos in this year's Range photo contest made it difficult to judge the best of the best. Each year the work submitted continues to get better which results in more diverse opinions from the judges. This year the judges were, as in the past few years, acclaimed Nevada photographer Linda Dufurrena, Range editor and publisher, C.J. Hadley and myself, Marilyn Newton, Reno Gazette-Journal photojournalist and author.

Unlike previous years we all agreed right away on the choice for the best of show. Then the decisions got a lot more difficult. C.J. always looks for photos that will reproduce well in the magazine or can be used in the books she publishes. Linda and I look for other things that the photos say to us personally.

Anyway...keep up the good work. Itís always a pleasure to see the beautiful and touching photos submitted.--Marilyn Newton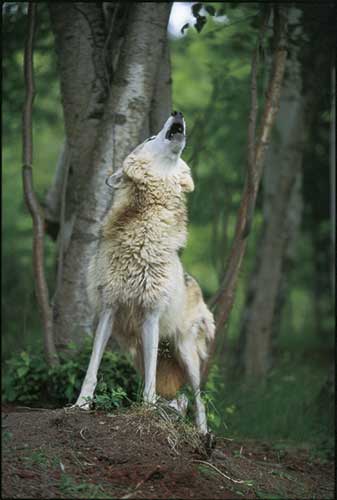 1st Place ($100) "Call of the wild," howling female wolf in Montana, 2003. © Doug Gaskill, Twin Falls, Idaho.