Dr. Annette Rink, DVM, Ph.D, peered through her oval-rimmed spectacles across the long tables separating her from the California Bighorn Recovery Team. "We find no scientific evidence for that," she says calmly. "There is no basis for assuming the Sierra bighorn to be a separate and distinct species."

She speaks with a light, but unmistakable German accent that seems to draw the attention of everyone in the room. Still only in her forties with four degrees in veterinary science from German, South African and American universities, Dr. Rink is the laboratory supervisor for the Nevada Department of Agriculture, and the stateís highest ranking livestock veterinarian. Attractive, with a slight resemblance to Ingrid Bergman, she is beguiling and yet intensely professional. Dr. Strangelove with common sense.

To sheep ranchers and cattlemen who have watched her wade relentlessly through waves of red tape in recent years, Dr. Rink has become a quietly admired pinup among a large collection of stiff-featured bureaucrats standing in their way. And while she will not concede to being an adversary of any kind, it is her patient insistence on good science that is holding off an attempt to declare a sizable portion of the Sierra Nevada off-limits to grazing as a habitat of an exceptionally "endangered" bighorn.

Though a large portion of the Sierra region along the California/Nevada border has never presented evidence of use by bighorns introduced farther south, the California Recovery Team wants to claim it as part of their refuge. They point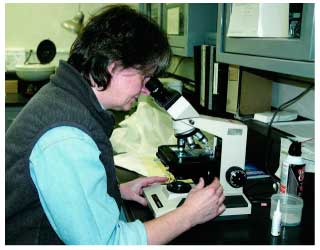 ©TIM FINDLEY
Dr. Annette Rink has four degrees in veterinary science from German, South African and American universities. Her patient insistence on good science is holding off an attempt to declare a sizable portion of the Sierra Nevada off-limits to grazing as a habitat of "endangered" bighorn.
urgently and conveniently to the tragedy of 2003 near Winnemucca, Nev., that drew painted headlines. The scorched fire season of 2002 in the Santa Rosa Mountains above Orovada had slumped into a sullen, dry winter. Forage and shelter had been burned over. The nights, without even a blanket of clouds, were bone-breaking cold. And yet again, the drought endured until December 2003, when the heaviest storms in two years struck suddenly with deep snows. Animals weak from drought were now bogged down in the drifts.

Hunters and hermits had been trickling in the stories of those two seasons to the Nevada Department of Wildlife (NDOW) in Winnemucca. A carcass was found among the rocks; there were obvious stragglers seen among the herd; the mating season seemed not to have gone well. Something was wrong with the bighorn in the Santa Rosas.

This herd of some 300 animals represents the trophy of renewal since 12 bighorns were introduced in the Santa Rosas in 1978 and multiplied to be the largest herd of what Nevada now claims as its state symbol animal. Word from the backcountry was that they were dying, one after another, in some sort of epidemic.

Reports received by NDOW in 2003 indicated that domestic sheep were seen grazing on Sawtooth Mountain near Orovada, in a place where domestic animals should not have been. The Department of Wildlife sent a surveillance helicopter into the range where officers found, and shot, a single domestic sheep. Swabs and samples of the animalís organs were taken for analysis by the Nevada Veterinary Laboratory, where Dr. Rink, only recently in the job, began the tests to unravel the mystery of the Santa Rosa losses.

"Primarily, of course, we were interested in determining if that sheep carried pasturella," she recalls. "It didnít. It also didnít have any parasites that cause verminous pneumonia."

Pasturella is common among both domestic and wild sheep, but requires the stress of some event to produce a viral infection that is most often fatal. Sheep ranchers sometimes refer to it as "shipping fever," knowing that it is found among animals trucked or moved over long distances.

Nevertheless, common knowledge brought from the first flocks to follow conquistadors into the New World was that contact between domesticated livestock and wild animals of generally the same species invariably results in a die-off. The evidence was almost entirely anecdotal, based on experiences of the early settlers, but it was so solidly in place among scientific consensus that there was general agreement on the fact that contact between domestic sheep and free-roaming bighorns would always lead to lethal infection of the wild animals. Dr. Rink confronted a situation in which she could not prove that was true in the Santa Rosas, even if the Department of Wildlife wanted it to be.

By early January 2004, NDOW was even more troubled. Its attempts by air of making a census of the bighorns brought back results of barely half the number counted only six months earlier. Flying low over one apparently mated pair, the NDOW officers expected the bighorns to leap away, seeking shelter from the noise. But the ram did not even rise to its feet, and the ewe only staggered away and stopped. Shot for scientific purposes, they were brought to Dr. Rinkís laboratory in Reno.

"On necropsy it was clear that they both had fatal pneumonia," she says. "It was clear they had suffered several episodes over several years of pneumonia. The current pneumonia of which they were dying was indicative of hemorrhagic pasturella."

Dr. Rink sent samples of the infected animals to colleagues at other recognized veterinary labs. The conclusion was that the animalís immune systems had been overwhelmed, not only by the stress of the extreme seasons, but by a lack of selenium in their forage in part brought on by the fires. One animal, stricken with pneumonia in the deep winter might have set off the epidemic. But there was no evidence to suggest it involved contact with domestic sheep.
"Don't get me wrong, there certainly is a risk. Domestic sheep can transmit diseases to bighorn sheep, and bighorns can transfer disease to the domestic sheep," Dr. Rink says. "Theyíre very closely related. In the wild, they have been known to mate and have offspring together. But the basis for saying contact between them is always fatal comes from relatively recent studies in Washington state in which the experimental design was biased to that conclusion. It has never been established."

It is useful, however, for those in need of an excuse to further limit grazing of domestic animals, such as the California Recovery Team leader who told Dr. Rink at the public hearing: "If I knew of a bighorn which just came nose to nose with a domestic sheep, I would have to shoot the bighorn."

That kind of science doesnít impress Annette Rink. "It's not bad science, itís no science," she says. "I'm paid to be objective about this, and thatís all Iím trying to do. Iím only concerned about the facts. Iím not interested in baggage."

Over the 30 years since California Fish and Game began reintroducing bighorns in the Sierra, recovery teams have carefully documented every loss they could find. About 55 percent was due to predation, almost all of it by mountain lions. Another 20 percent or more was due to avalanches. With less than 30 percent of the deaths unaccounted for, not one could be established as having been from encounters with domestic sheep.

Yet the bureaucratic mindset maintains that it was domestic sheep that drove the bighorns near extinction in the 1930s and '40s when three million domestic sheep grazed in Nevada alone. It is hardly a tenth of that today, due largely to economic policies and an end to subsidies. Ironically, where the bighorns are making their greatest recoveries is in regions traditionally grazed by domestic sheep that served to control the cheatgrass and other invasive forage that could strangle the range.

"If you look at a bighorn sheep herd in a certain mountain range that is surrounded by sheep grazing permits, for 30 or 40 years nothing happens, and then there is this big die-off," Dr. Rink proposes. "What caused it? That is what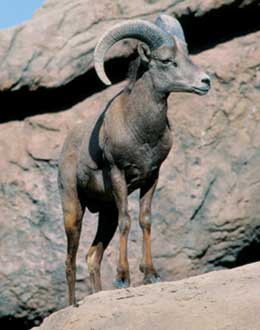 © JOHN GERLACH, TOM STACK & ASSOCIATES.
Though a large portion of the Sierra region along the California/Nevada border has never presented evidence of use by bighorns, the California Recovery Team wants to claim it as part of their refuge.
we need to find out. If you have a bighorn sheep herd with 50 lambs, and you lose 25 percent of these lambs due to infectious disease, which they might have acquired from the domestic sheep or not, but 50 percent more survive because of the better forage space that might not have been there without the domestic sheep, what would be your choice? That is the sort of thing we need to establish, not with anecdotal evidence, but with science."

Given the political influences on natural science over the last 30 years, Dr. Rink acknowledges that it is sometimes difficult to maintain a posture that is objective and, in the end, verifiable. She is nobodyís fool.

"I think the Endangered Species Act needs to be looked at. That definitely is the case," she says. "And the other thing I would strongly recommend is that recovery plans should be peer reviewed. The process needs to be anonymous and diverse."

The bighorn herd in the Santa Rosa Mountains has, by objective accounts, survived and is recovering on its own. The production of new lambs will be carefully watched for the next few years. There is no evidence that the die-off, which took the lives of some 100 bighorns, was in any way connected to domestic sheep.

In the Sierra Nevada, however, pressure continues from California authorities demanding that grazing allotments for Nevada sheep ranchers in the region be reduced again.

"This is my personal opinion," Dr. Rink says, "but I think that every country needs to make sure that their food base is secure within their country, as far as they can. This discussion about the sheepmen of Australia or New Zealand producing cheaper lamb than the United States, well, okay, then the American sheepmen will die out. But the question is if thereís a catastrophic event of whatever nature, either climatic or political in those countries and now we donít have a sheep industry any more, or a cattle industry, or poultry, what are we going to eat?"

It's part of what charms Nevada livestock producers that, as a scientist, Annette Rink seems to know the right questions.