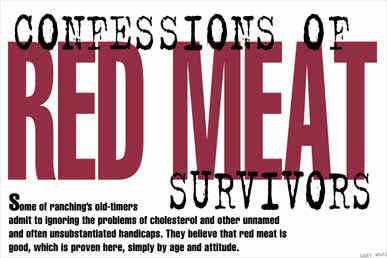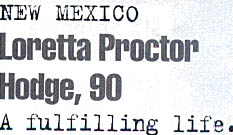 When Loretta Porter was a girl, she probably never thought she would live her whole life in one small community, Corona, N.M. Her father, Claude, and mother, Susie, came to Corona in 1908 with two children and livestock. Claude filed on 160 acres under the Homestead Act of 1862. In 1909, Claude moved a house from a sawmill in Red Cloud Canyon for his family, which grew to include seven more children. That homestead is still in the family.
Cowboy and carpenter, Claude worked at the sawmill and on the railroad as a section foreman. Loretta, the middle child, was born March 3, 1914, in Marlow, Okla. Corona had no doctors, but because Claude worked for the railroad, he was able to send Susie to Oklahoma for Loretta's birth.
"I don't remember ever being hungry," Loretta says. "We raised hogs for ham, bacon, sausage, and lard. We bought flour, rice, and peanut butter in 25-pound cans by mail order from Montgomery Ward and Sears Roebuck. In the spring, we had wild greens like mustard, lambs' quarters, careless weeds, and tumbleweeds, and a large garden."
Chickens and milk cows furnished eggs, milk, cheese and butter. When venison was available, they enjoyed the red meat. For a cash crop, they raised pinto beans.
During her first three years of school, Loretta and her siblings walked a mile and a half to a one-room schoolhouse on a neighboring ranch. By fourth grade, they rode a bus. The bean harvest had priority, so they missed the first few weeks of school. Loretta always caught up and was promoted to fifth grade during her fourth-grade year. In 1931, she was valedictorian of her graduating class.
After high school, Loretta worked at DuBois Drug Store, Roberts Mercantile, and the post office. While at the drugstore, she met Floyd Proctor who homesteaded down Gallo Canyon, 24 miles from Corona, in 1924. They were married January 31, 1935 in Albuquerque, N.M.
Floyd and Loretta raised four boys and four girls on the homestead. They raised sheep and sold the wool. Loretta milked cows and sold the cream. She cut fence posts and stays, hauled water, chopped wood, cooked on a woodstove, and washed clothes on a rubboard until she got a washing machine with a gaso1ine engine in the early '40s. Loretta helped Floyd shear sheep for neighbors until the boys were old enough to help. They raised dryland beans and cane. Floyd also caught and sold diamondback rattlesnakes for a dollar a pound.
Loretta drove a school bus for 17 years. Part of that time, her bus route was 104 miles of dirt road, round-trip, with 54 gates.
In 1947, Floyd and Loretta's son, seven-year-old Dee, and neighbor Mac Brazel, found the UFO crash site of Roswell fame on a neighboring ranch and reported it to the sheriff. Loretta has been interviewed many times regarding the crash and the "material" Mac showed her. According to Loretta, "It was not a balloon that crashed!"
Floyd died in 1985. Loretta married Ellis Hodge, also a "local boy," in 2000 and moved up the road a mere 17 miles from where she had lived for over 60 years. Ellis passed away in May of 2003.
"It hasn't been an easy life, but it has been a fulfilling life. I raised a good family who learned to work, respect other people, and value what they have." Loretta has 24 grandchildren, many great-grandchildren, several great-great-grandchildren and many others who call her "Granny."
All eight children, their families, relatives, and friends came together on Saturday, March 6, 2004 to honor Loretta on her 90th birthday and celebrate her life. Between 400 and 500 people attended the barbecue and dance held at the Corona public school facilities.
Loretta says, "'We cooked 24 briskets and two turkeys for the barbecue."
Yep! She's still eating red meat!-Fran Proctor
CLOCKWISE FROM TOP: Loretta sits with her children. Top row L to R:
Dee, Floyd, Bo (Norris) and Sandy, Bottom row L to R: Sissy (Loretta), Veda, Loretta, Alma and where all went through grade school.
---

Bo, Dee and Floyd (l to r) share a burro while Loretta holds year-old Sissy (1942).

---

Floyd and Loretta Proctor about 1931.

---

Loretta at 90, dances with great-grandson Kyle Shelley.
---