Outback Roundup 2004
From hundreds of amazing entries submitted from all across the West, a panel of contentious judges (award-winning photojournalist Marilyn Newton, artist/photographer Howard Hickson and RANGE publisher C.J. Hadley) finally agreed on these winning photos. CJ chose a few more which will appear in later issues. Winners were announced during the 16th annual "Shooting the West" in Winnemucca, Nev., March 12 to 14, 2004.
Inspired? Maybe you will win cash and fame in "Outback Roundup 2005"!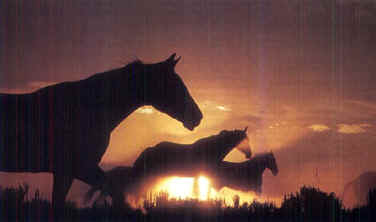 BEST OF SHOW
"Sunrise Horses, Triangle X Ranch, Moose, Wyoming"
(By Connie L. Holden)
---
1ST PLACE

"Ron Scofield, Red Mile Ranch Fiddletown, California"

(By Carolyn Fox, Jackson, CA)
---

2ND PLACE

"Kyle Behling, 7L Ranch Raymond, California."

(By Heidi Vetter, Oakhurst, CA)
---

MERIT AWARD

"Lane Crafton, Dragging Y Cattle Co., Dillon, Montana"

(By Guy de Galard, Buffalo, WY)
---

MERIT AWARD

"Tony Latham, Cowboy,

Monitor Valley, Nevada"

(By Larry Angier, Jackson, CA)

MERIT AWARD

"Chris Young & Pepe,

Buffalo Valley, Wyoming"

(By Connie L. Holden, Moran, WY)

---
3RD PLACE

"Fall Gatherying, Cecil Wetzstien

at Diamond A Ranch,

Jarbidge, Nevada"

(By Doug Gaskill, Twin Falls, ID)
---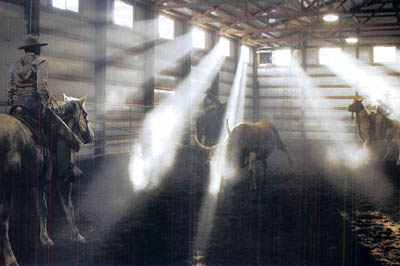 4TH PLACE
"Rays on Ropers, McGinnis Meadows, Montana"
(By Dori Bock Libby, MT)
---
5TH PLACE

Loren Jahn and son Corbett, Scossa Barn,

Carson Valley, Nevada"

(By Jack Hursh, Reno, NV)

MERIT AWARD

"Friends, Summerville, Oregon"

(Shortly after she was weaned, one of our guard-dog pups adopted this buck.)

(By Don Mills, Weston, OR)
---

MERIT AWARD

"Bringing Home the Tree, Fort Klamath, Oregon"

(By Larry Turner, Malin, OR)

---

MERIT AWARD

"King of the Hill, Lake County, California"

(By Jim Morgan, Chiloquin, OR)

---

MERIT AWARD

"Clay Wetzstein, Diamond A Ranch

Jarbidge, Nevada"

(By Doug Gaskill, Twin Falls, ID)

MERIT AWARD

"Got Milk? The Barn,

Valley Ford, California"

(By Laura Hillebrecht, Escondido, CA)
---